Summary
XMind is a powerful mind mapping tool for brainstorming, structuring, and connecting ideas. It allows for in-depth comparative analysis as well as tracking milestones and schedules in chronological sequence.
Usefulness
Create, format, & Share mind maps on both desktop and mobile.
Price
Yearly subscription can be expensive for some users.
Ease of use
UI is distraction free. Learning curve is rather flat. Certainly made for everyone.
Support
Support material available in the form of videos and blog posts. Quick response time to queries.
When most people think of XMind, they think of capturing ideas, clarifying thinking, managing complex information, and promoting team cooperation.
In this review of XMind, we'll look at its flexible user interface and remarkable visualization capabilities, such as Mindmap, Logic Chart, Timeline, Org Chart, Fishbone, Matrix, and Tree Table, which make it a great brainstorming tool for all users.
Getting started with XMind
XMind is a mind mapping software developed by XMind Ltd. This mind mapping software is available in 2 different iterations called XMind (2021), formerly known as XMind: Zen and XMind 8 Pro.
The process of creating your first mind map with XMind is rather simple. When you launch the application, you must enter your login information. Then you'll see a template window where you may select from a list of existing templates with predefined structure and content that you can alter to suit your needs.
To add topics and subtopics to your mind maps, use the TAB and ENTER keys on your keyboard. You can also add more info to your subtopics as notes, making the brainstorming process go more smoothly.
You can discover many helpful instructions on XMind's YouTube channel and on the company's official blog. If you have any questions, visit the XMind help center or contact XMind support.
Difference between XMind (2021) and XMind 8 Pro
Both XMind (2021) and XMind 8 Pro are desktop mind mapping applications, with the pricing approach being one of the most significant differences between them. XMind (2021) is a subscription-based product, whereas XMind 8 Pro has a lifetime license key.
XMind (2021) appears clean and elegant, but XMind 8 Pro appears classic and grounded. Pitch Mode, ZEN mode, Theme Editor, and Equation are the prominent functions of XMind (2021), whereas Brainstorming Mode, Presentation Mode, and Gantt chart are the highlighted functions of XMind (8 Pro).
Furthermore, XMind (2021) is fully compatible with XMind 8 Pro. Please click here for a more complete feature comparison chart.
User Interface and Features
XMind (2021) comes with a clean and intuitive user interface. The toolbar isn't overburdened with options. Rather, the toolbar provides just the right number of options for building mind maps.
You can also toggle between Mind Map and Outliner view. The latter helps you organize your mind map's topics and sub-topics into headings in a linear fashion.
From the top-right corner of the toolbar, you can add icons and stickers to your mind map and improve the formatting in various ways.
ZEN Mode
XMind (2021) also features the so-called ZEN mode, which simplifies the view of the interface by hiding all toolbars and allowing you to focus entirely on the content of your mind map. To modify the latter, you can utilize keyboard shortcuts and right-click instructions.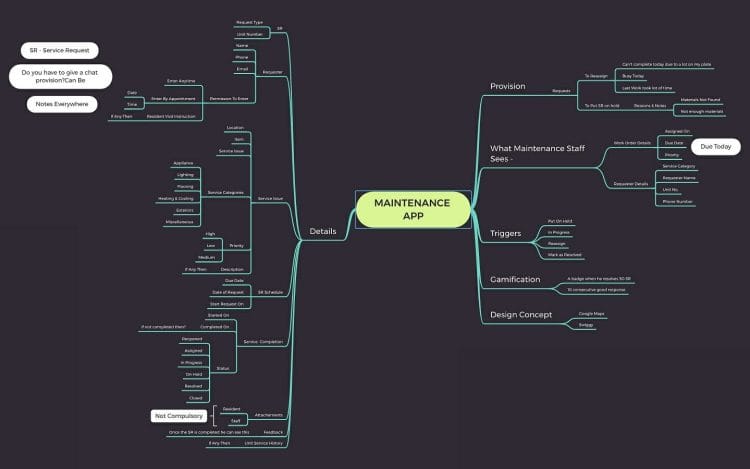 This straightforward layout appeals to first-time mind mapping software users, who can be overwhelmed with toolbars and options for modifying their mind maps.
Pitch Mode
The Pitch Mode can be accessed via the software toolbar. Based on your mind map, it generates presentations with animated transitions. It employs a novel method to mind mapping software that we have not seen previously.
It can be used to portray sophisticated mind maps in the simplest way possible with the press of a button.
Skeletons
XMind has come a long way and can now create considerably more than traditional mind maps. It can now generate:
Logic Chart

Timeline

Org Chart

Fishbone

Matrix

Tree Table
The XMind refers to these many forms of visual structures as "skeletons." When you launch the application, it presents a set of templates for the various "skeleton" types that can be created. You can also change the format of your map at any moment by using the formatting panel's map settings option.
In this review, we'll go over the two most recent skeletons – or new templates – added to XMind:
Tree Table
XMind (2021) comes bundled with a structure called Tree Table, which presents subtopics horizontally using nested rectangles. If you want to express your ideas in a sheet format, the tree table can handle this. It can be used to prepare an SOP document, résumé, timetable, data visualization, and more.
Fishbone
With its logical and direct layout, the Fishbone assists you in properly allocating yourself to the problem-solving process.
Each branch of the fishbone diagram depicts a different cause of the problem. The primary branches illustrate all possible causes, while sub-branches delve further into the "why" behind the "why." The fishbone chart is also known as a "cause-and-effect diagram" in this context.
Exporting and sharing
When you've finished your mind map, you'll probably want to share it with others or use it as an illustration in another document. You can export your mind map from XMind in a variety of formats, including:
PNG

PDF document

Text document

Microsoft Word or Excel document

OPML

TextBundle
Supported devices
This is one of XMind's least-mentioned features. XMind is accessible on all of your mobile (iOS and Android) and desktop (Windows, Mac, and Linux) devices.
The supported devices differ depending on the XMind software you choose. The XMind (2021) is compatible with both desktop and mobile devices, whereas the XMind 8 Pro is only compatible with desktop computers.
Pricing and Plans
XMind provides a free trial of their application. Most features are available in the free version, but some are restricted, such as theme editor, customize quick style, set password, align floating topic, insert LaTeX equation, insert a topic link, insert file link, add local image, show branch only, remove the watermark, export to SVG, word & excel, export to OPML & Textbundle. You'll also get a watermark on your exported mind maps.
As mentioned earlier, pricing plans are different for each of the 2 iterations of XMind.
The subscription-based plan includes XMind (2021) and XMind Mobile for iOS/Android starting at US $39.99 / 6 months. XMind also provides special discounts to students and educational institutions. You can acquire the XMind (2021) membership for US $22.49 / 6 months if you use the academic discount.
View XMind (2021) and XMind Mobile Subscription Plans
XMind 8 Pro costs $129 USD for a lifetime license. A single license can be used on up to two personal desktop computers. If you are a student or an educational institution, you can purchase a lifetime license of XMind 8 Pro for US $59, while governments and non-profit organizations can purchase a lifetime license for the US $64.5.
View XMind 8 Pro Lifetime Licensing Plans
Verdict
Mind mapping is one of the most effective methods for coming up with fresh ideas, organizing your thoughts, and creating a structure for your content. XMind is a powerful mind mapping application that allows you to build and share professional-looking mind maps. With it, you can quickly build mind maps, add images, charts, and more.
XMind is great for those who are just getting started with mind mapping. We encourage you to give it a try by downloading the free trial version, and we are confident that XMind will meet your requirements.