Canva is a free online tool well-known for its graphic design abilities. It simplifies the designing of everything from social media graphics, logo design, and charts to presentations and mind maps.
Canva has been my go-to tool for graphic design for a long time, and I'm super impressed by its simplicity and ease of use for users of all skill levels. You can read my detailed Canva review here. When I saw this official blog article on Canva's mind mapping capabilities, I was surprised. So, I decided to explore its abilities.
Here are my thoughts after reviewing everything there is to know about Canva mind maps.
Canva mind mapping features
You can create amazing mind maps using the same drag-and-drop editor. You can begin by choosing a template from hundreds of mind mapping templates or by starting with a blank canvas and visualizing your ideas as you see fit.
You can find all of the design elements you need to create your mind maps, such as arrows, shapes, and bubbles. However, the procedure becomes a little tedious as connecting all of your ideas isn't as simple as they suggest. Unlike classic mind mapping applications such as XMind and MindMeister, which add branches to your ideas with the press of a single key. Canva requires you to manually add connecting branches. This, in turn, makes reshaping your mind map difficult. Although there are several remedies for this limitation, which we will explore in the upcoming sections of this article.
Aside from that, the availability of some advanced graphic design options and hundreds of mind mapping templates facilitates the creation of more beautiful mind maps. 
The Canva mind maps you design can then be effortlessly integrated into your presentations. There are over 20 different types of professional graphs and charts that you can use to better illustrate and express your thoughts without leaving the Canva ecosystem.
You can export and download your mind map in 7 file formats except for SVG – which are available on the Free plan.
PNG

JPG

PDF Standard

PDF Print

SVG (Pro Only)

MP4 Video

GIF
Please read this Canva review for a more complete description of Canva's editor and features.
Making a mind map with Canva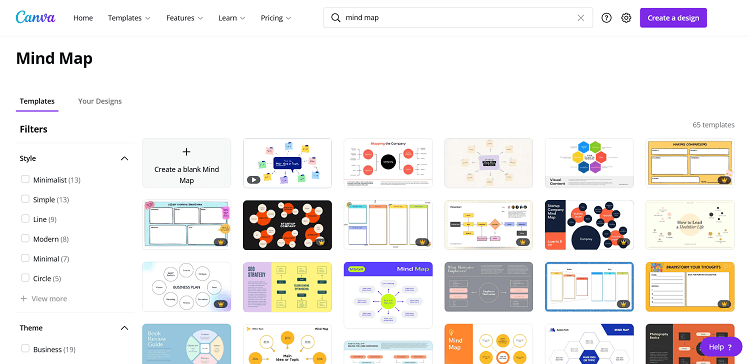 You can create your mind map with Canva in 5 steps!
Sign up for a Canva Free Plan and log in to your account.

Enter the term 'mind map' into the search bar.

Add text boxes, shapes, and arrows to your mind map.

Customize your mind map.

Download and share your mind map to the website or social media.
Step 1 – Sign up and log into your account
Log in to your Canva account or sign up for free using your Facebook or Google account to get started. Canva can be used on PC or mobile, and a brand new page will be generated for you to begin designing in seconds.
Step 2 – Searching and selecting mind mapping templates
When you enter 'mind map' into the search bar, a recommendation will emerge. Click on it to gain access to hundreds of beautiful mind mapping templates. To further refine your search results, Apply filters such as price: Free and theme: Business, Brainstorm, technology, etc.
Step 3 – Designing a mind map
To map out your ideas, add shapes, lines, text boxes, icons, and other graphics. Color-code your design with Canva's color palette to keep things vivid. Some ideas for speeding up the mind mapping process and overcoming the limitations we described earlier.
Group shapes and text elements

– This generates dynamic objects, which means your shapes will resize depending on the text you enter. You can also clone them for additional use.

Create a custom style page

– Add a blank page to your design, then fill it with all of your shapes, arrows, and grouped elements. Then, simply copy your custom-designed items from the style page to the design page.
Step 4 – Customize your mind map
Rearrange the layout or seek ideas from a different template to make the one you've picked better, whether it's by utilizing a different color scheme or adding a different combination of shapes. You can switch the background and tinker with the typography.
Step 5 – Download and share your mind map
You can download, save as a presentation, or share your mind map on LinkedIn, Facebook, Slack, Twitter, or any other social media channel once you've completed it. You can also use Canva's Content Planner to schedule your sharing.
Canva mind mapping templates
Mind maps are useful for brainstorming, taking notes, and working through challenging problems. This technique helps to bring your ideas to life by visualizing them so you can remember, spot relationships, and comprehend the broader picture. Canva's outstanding template library is specifically designed to meet this requirement of yours.
Here are a few of our favorite mind mapping templates.
1 / 6
Caption Text
2 / 6
Caption Two
3 / 6
Caption Three
4 / 6
Caption Three
5 / 6
Caption Three
6 / 6
Caption Three
To summarise, Canva's editor was not purposefully intended to meet the needs of visualizing mind maps. However, it is a strong contender in mind mapping software due to the availability of hundreds of free attractive templates and an easy-to-use editor. The potential to incorporate your mind maps in presentations and share them immediately on popular social media channels while remaining in the same ecosystem should never be overlooked, especially if you manage a small business.
So, we recommend that you give it a try and test Canva for free.
Alternate mind mapping tools
Looking for an alternative to Canva's mind mapping tool? Take a look at this list of solutions that provide the best overall value.
X Mind
4/5
XMind is an effective mind mapping application for brainstorming, organizing, and connecting ideas. It enables detailed comparison analysis as well as the tracking of milestones and schedules in proper sequence.
MindMeister
4/5
MindMeister is a cloud-based mind mapping software that's great for coming up with project ideas and making presentations.

Mind 42
4/5
Mind42 is a free mind mapping tool that you can use online. In a nutshell, It is a browser-based application that allows you to build mind maps, which are a type of structured diagram used to graphically organize knowledge.
Bubbl.us
3/5
Make colorful mind maps that you can print or share. Use Bubbl.us for coming up with new ideas, planning processes, and making presentations.